Whether through mini-grant programs or clever promotional campaigns, Heritage Areas help support small business and organizations that are the lifeblood of the local economy. Guides and maps highlight local attractions and historic sites. Partnership programs enhance quality of life for local residents and visitors alike.
Here we highlight just a few recent examples of Heritage Area programs that support small businesses and local organizations.
Oil Region Outdoor Recreation Business Plan Contest
The Oil Region Outdoor Recreation Business Plan Contest, formerly known as the Get on the Trail Business Plan Contest, is in full swing for 2021. The contest will award a $5,000 and a $3,000 cash reimbursement to a new or existing business that will add to the experience of outdoor recreationalists in the Oil Region National Heritage Area.
Semi-finalists will be announced on July 29; business plan judging will take place in October. The Oil Region in Western Pennsylvania comprises all of Venango County and Hydetown, Oil Creek Township, and Titusville in Crawford County. Also included in the contest area are Foxburg (Clarion County) and Parker (Armstrong County) to the south.​
The Oil Region Alliance has run the contest for the last five years with support from Venango County in the form of Act 13 funds and numerous volunteer advisers and judges.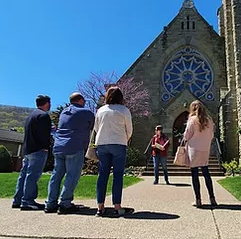 A Bite of History, the Franklin, PA-based historic food tour company, was the grand prize winner of the 2020 Oil Region Outdoor Recreation Business Plan Contest.
A Bite of History Food Tours was created by Oil Region native Valerie Perry. Valerie combined her local knowledge with her extensive travel experience to create an exceptional immersive experience through informative, entertaining, and delicious walking tours.
Lincoln Highway Heritage Corridor Mini-Grant Program
The Lincoln Highway Heritage Corridor has granted seven nonprofit 2021 Mini Grants for projects along the Lincoln Highway in Westmoreland, Somerset, Bedford, Franklin, Fulton, and Adams counties. Mini-grants ranged from $675 to $10,000.
This opportunity required a cash match from the grantees and was designed for smaller projects for eligible 501(c)(3) nonprofit organizations and municipalities. Projects fit into one of three themes: education, nature, or preservation.
The 2021 Recipients
Fulton County Historical Society – $10,000 – Preservation – restoration of the façade of the Fulton County Historical Society Museum Annex to the original 1920s Central garage that was at that location.
Franklin County Historical Society-Kittochtinny – $5,000 – Preservation – renovation of Toll House No. 2 by replacing the cedar shake roof to preserve and protect the structure for future use as a history museum and tourist attraction.
Greensburg Art Club – $5,400 – Nature/Preservation- upgrade and conserve property bordering Route 30. Remove old light posts, poles, and plant trees and shrubs to be seen from highway; build a rock wall to prevent erosion of property.
Latrobe Community Revitalization Program (in partnership with the City of Latrobe and the Eastern Westmoreland Career & Technology Center) – $9,500 – Preservation – "Welcome to the Neighborhood" Latrobe Sign project. A new, "timeless" sign for the entrance of the City of Latrobe.
Totem Pole Playhouse – $850 – Nature/Preservation- restoration of namesake totem pole, as well as restoration of LHHC Roadside Museum sign, outside playhouse.
Westmoreland Cultural Trust – $675 – Education- creation of a video Interactive Walking Tour of Westmoreland Cultural Trust's Art in the Alley, interviewing the artists about the artworks on display.
Westmoreland Symphony Orchestra – $2,400 – Education – creation of a concert about the musical history of the Lincoln Highway called "Motoring Down the Lincoln Highway: How Route 30 Grew Cultural Opportunities" with final concert to be performed in fall 2021.
The mini-grant funding was financed in part by a grant from the Community Conservation Partnerships Program, (the Environmental Stewardship Fund and the Keystone Recreation, Park and Conservation Fund), under the administration of the Pennsylvania Department of Conservation and Natural Resources (DCNR), Bureau of Recreation and Conservation.
Rivers of Steel Mini-Grant Program
Earlier this year, the Rivers of Steel National Heritage Area awarded $60,000 to nine nonprofit organizations within the eight-county region of southwestern Pennsylvania that the Rivers of Steel National Heritage Area represents. Rivers of Steel works to conserve the industrial and cultural heritage that defines southwestern Pennsylvania. It champions the region's natural, cultural, educational, recreational and industrial resources as key components for preserving the region's heritage, focusing on developing a sense of place, as well as contributing to the economic vibrancy of the region's citizens and communities.
The Mini-Grants will be used to develop new and innovative programs, partnerships, exhibits, tours, and other initiatives that are consistent with Rivers of Steel's mission and that increase heritage tourism, enhance preservation efforts, involve the stewardship of natural resources, encourage outdoor recreation and/or include collaborative partnerships.
2021 Mini-Grants were award to:
Ambridge Historic District Economic Development Corporation, $5,210, for the stabilization of the Bicentennial House building located at 284 13th Street in the Ambridge Historic District and for preliminary investigations into the needs for preservation and rehabilitation.
Center of Life, $12,000, for installation of interactive art objects that function as urban furniture, planters for nascent local species, and instigators of conversation that will be installed at a tree nursery on a site at Hazelwood Green, before transitioning into permanent residence within the Hazelwood community.
Donora Historical Society, $1,000, for the development of glass plate negatives from the Bruce Dreisbach collection and other archival photo and film related projects.
Historic Harmony, $4,000, for the completion of the Visitors Information Cabin, by building out the interior as an interpretive exhibit space to demonstrate how early settlers worked.
Josh Gibson Foundation, $10,000, for the creation of the Josh Gibson Virtual Tour, an interactive tour that will highlight the accomplishments, triumphs, and barriers Josh Gibson experienced in his life.
Kelly Strayhorn Theater, $4,000, for the build out of the Gallery KST & Lounge, which will activate the historic lobby space for community events, while enhancing the patron experience and supporting creatives to achieve artistic fulfillment, financial resilience, and social impact.
Steel Valley Trail Council, $3,790, for the research, creation, and installation of interpretive signage along the trail that highlights the historical importance of Braddock's Expedition, the Flyover Trail Bridges, the Thompson Run Waterfalls, and the industrial history of the area traversed.
Pennsylvania Trolley Museum, $12,000, for the design, fabrication, and installation of the Rolling Melting Pot exhibit, an interactive educational tool that will allow students and other visitors to understand the impact that immigration had on trolleys, and that trolleys had on immigration.
Westmoreland Museum of American Art, $8,000, to support Stephen Towns: Declaration and Resistance, a solo exhibition of artist Stephen Towns, a Black painter and fiber artist whose work explores how American history influences contemporary society.
While the funding is provided via DCNR's Community Conservation Partnerships Program and the Environmental Stewardship Fund for these Mini-Grants, Rivers of Steel Heritage Corporation applies for, administers, and accounts for the distribution of the grants throughout the Rivers of Steel National Heritage Area. Both nonprofits and municipalities are eligible for grant awards.
This year, as part of its ongoing diversity, equity, accessibility, and inclusion efforts, Rivers of Steel gave special consideration to black- or minority-led organizations and organizations that serve a majority BIPOC (black, indigenous, people of color) audience and communities.
Promoting local businesses
Heritage Areas work hard to create partnerships and find creative means to support and promote local businesses. Here's a sample of some current programs that encourage residents and visitors to patronize local businesses.
The D&L Trail Friendly Business program highlights local businesses that provide great customer support and cater to the needs of runners, hikers, and bikers who use the D&L Trail. These businesses create a trail-friendly atmosphere that welcomes outdoor enthusiasts. These businesses know what trail users need and take the extra steps to make sure you have a great experience. Visit the Delaware & Lehigh Canal National Heritage Corridor website to learn more and discover trail-friendly businesses near you !
Three of the River Towns in the Susquehanna National Heritage Area offer a seasonal Bucket List that encourage exploration of the local shops and attractions. Challenges on the list range from saluting the soldier memorial too mentioning the bucket list at a local restaurant for a free treat. Complete enough challenges and and earn a badge! Encouraging participants to post their experiences on social media helps spread the word. Click here to learn more.
To receive news of upcoming events and more in your inbox, click here to sign up for our enews.
Check out our other recent news updates!