Susquehanna National Heritage Area
Visit the Susquehanna National Heritage Area to experience American history, culture, and the great outdoors! As it flows through Lancaster and York Counties to the Chesapeake Bay, the Susquehanna River traverses a nationally significant ribbon of scenic and historic landscapes and communities. Visitors enjoy hiking, paddling, fishing, birdwatching, shopping, eating, and learning as they explore historic river towns, museums, parks, preserves, trails, panoramic overlooks, and American Indian heritage sites.
Explore this area's website for information, events, and more.
Follow on Facebook.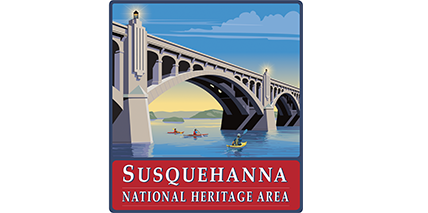 1706 Long Level Road, Wrightsville, PA 17368
Situated along the Susquehanna River below Wrightsville, the Zimmerman Center for Heritage is headquarters for the Susquehanna National Heritage Area and Pennsylvania's official visitor contact station for the Captain John Smith Chesapeake National Historic Trail. Tour the c.1750 Dritt Mansion, view Susquehanna River art, learn about the Susquehannock Indians and take a short walk to the site of their last community in the adjacent 175-acre Native Lands County Park. The Center is also a National Park Service Passport stamping station and offers NPS Junior Ranger programs.  Amenities include a riverside pavilion, native plantings, and a kayak/canoe launch. River Discovery Boat Tours are offered weekends, Memorial Day through mid-October.
---
41 Walnut Street, Columbia, PA 17512
Located in Columbia River Park along the Susquehanna River, Columbia Crossing is the primary visitor information and education center for exploring the Susquehanna Riverlands. The facility offers exhibits, programs, picnic pavilion, power and paddle boat launches, public restrooms, and great views of the historic Veterans Memorial Bridge. Columbia Crossing is also the southern trailhead for the Northwest Lancaster County River Trail. The center is managed by Susquehanna National Heritage Area for the Borough of Columbia.
---
205 Indian Steps Road, Airville, PA 17302
Indian Steps Museum is a one of a kind destination set along the Susquehanna River in southern York County. Originally an Arts and Crafts style "cabin", this unique structure was constructed in 1912 by York attorney John Edward Vandersloot as a way to showcase his extensive Indian artifact collection. Embedded in the walls of the building are 10,000 artifacts, many arranged into murals depicting the Native American world as imagined in the early 20th century. Indian Steps opened to the public in the 1940's as one of the nation's first museums dedicated exclusively to Native American culture and continues to fascinate visitors with its artifact displays and exhibits. Open seasonally.
---
514 Poplar Street, Columbia, PA 17512
During the late 19th century, Lancaster County was home to many watch and clock manufacturers and schools. First opened to the public in 1977, the National Watch and Clock Museum features more than 12,000 items and has a library and research center to help visitors learn more about their own timepieces. Chronologically, the exhibits take you on a tour through the entire history of timekeeping technology from early non-mechanical devices to today's atomic and radio-controlled clocks. The Museum also features rotating special exhibits and a variety of special events and programs.
---
301 Linden Street, Columbia, PA 17512
The Turkey Hill Experience pays homage to Turkey Hill's history while highlighting its ice cream and iced tea-making processes. The Experience includes interactive exhibits, a café, a gift shop, and lots of other fun things for the entire family! The Turkey Hill Experience is located in the newly renovated and restored Ashley & Baily Silk Mill. The Experience also features several interpretive panels located in the free section that introduce visitors to the unique culture of the Susquehanna National Heritage Area.
---
38 S. 2nd Street, Columbia, PA 17512
History is alive and well in this restored 1738 mansion that interprets the life of a prominent resident, Susanna Wright. The home was originally built for James Wright and his family – members of Columbia's founding family who settled in the area in 1730 and established a ferry service for pioneers heading into the frontier west of the Susquehanna River. The pre-Revolutionary War house exemplifies Pennsylvania architecture in the English style and is rumored to have a subterranean passageway leading to the Susquehanna River. Furnished exclusively with items made before 1750, including needlework, ceramics, glass and other decorative arts, it reflects life in a wealthy 18th-century Quaker household. Open Seasonally.
---
2525 River Road, Conestoga, PA 17516
Located on the original Atglen & Susquehanna Branch of the Pennsylvania Railroad, this scenic trail offers accessible hiking and biking opportunities as well as viewing platforms that highlight views of the Susquehanna. The surfaced trail follows the river 5.25 miles, starting at the base of Turkey Hill and ending at the Safe Harbor Trestle Bridge. Interpretative panels tell the story of the railroad, and there is even a caboose on display. Consider exploring the side trail leading to the top of Turkey Hill for panoramic views of the river. Amenities include handicap accessible restrooms and picnic shelters.
---
1880 Park Drive, Drumore, PA 17518
Enjoy an incredible view of the Susquehanna River while exploring the history of the Susquehannocks from this 224-acre State Park, which also offers a variety of recreational activities year-round. Captain John Smith explored near this part of the Susquehanna River not far from Havre de Grace, Md., and the Pennsylvania state line. He wrote in his journals that he found the river beautiful but not navigable for large ships. There are five miles of trails for hiking and horseback riding. Take a picnic basket and stop at one of the pavilions or at the overlook.
Wrightsville, PA 17368
The Mason Dixon Trail connects the Appalachian Trail with the Brandywine Trail. This 193-mile long trail starts at Whiskey Springs, on the Appalachian Trail, in Cumberland County, PA and heads east towards the Susquehanna River, passing through Pinchot State Park en route. The trail then follows the west bank of the Susquehanna south to Havre de Grace in Maryland. A map of the Mason Dixon Trail is available.
---
41 Walnut Street, Columbia, PA 17512
Chiques Rock Outfitters is conveniently located at the southern trailhead of the NW River Trail with easy riverfront paddle access. They offer a safe, pleasant outdoor experience that novice and expert paddlers alike will enjoy. Services such as guided and non-guided trips, rock climbing, whitewater paddling, shuttle service, tubing, bicycle rentals, and camping are also available. Try out their paddle-pedal package to see it all!
---
2092 Long Level Road, Wrightsville, PA 17368
Originally an 1890's era general store building located on the banks of the Susquehanna River, today this unique structure houses all things needed to go play outside! Shank's Mare sells a variety of outdoor equipment and clothing, in addition to offering programs and paddle craft rentals, tours, and lessons. Shank's Mare also features a gallery house that offers art and giftware that allow the outdoor lover to bring nature indoors.
---
Trinity Church Road and Hilt Road, Wrightsville, PA 17368
Highpoint Scenic Vista & Recreation Area provides a perfect place for hiking as well as quiet reflection. Walk a half-mile ADA accessible trail that spirals to a breathtaking panoramic view of the surrounding Susquehanna Riverlands. The Highpoint Heritage Trail Guide and Legacies & Lessons app add historical, environmental, and artistic context to the views. Two other trails meander through meadowlands and connect with the Mason-Dixon Trail. Amenities include ADA parking and restroom, picnic tables, and sitting areas along the Heritage Trail.
---
Old Holtwood Rd, Holtwood, PA 17532
A ravine and a large tributary of Kellys Run creates this beautiful hollow in Martic Township, which features one of Lancaster County's few remaining old-growth forests. Springtime brings an abundance of wildflowers. The site features mature timber in the form of oaks and maples, and steep paths that ascend from an elevation of 400 feet to 700 feet along rugged trails. Inside the preserve, a Pollinator Park is in progress that will restore 14 acres of an abandoned community park into pollinator and wildlife habitat to be a refuge for native bees and pollinators including the rare monarch. Enjoy a strenuous hike on Kellys Run Trail, a national recreation trail which also serves as a section of the Conestoga Trail. The Kellys Run Trail is 3.8-mile loop that traverses difficult and steep terrain that requires multiple stream crossings and scrambles across bedrock and boulders. As part of the Conestoga Trail, Kellys Run Nature Preserve is connected to Pinnacle Overlook by a network of trails.
---
Mt. Pisgah Road and Cool Creek Road, Wrightsville, PA 17368
Soak in one of the most spectacular views of the Susquehanna River Valley from atop 885-foot Mt. Pisgah, the pinnacle of this 85-acre tribute to the great outdoors. The overlook offers a spectacular view of the Susquehanna River as it winds its way through Pennsylvania to the Chesapeake Bay. The park, named for a long-time state cabinet member, also features open fields, playgrounds and picnic and hiking areas and excellent opportunities for kite flyers and star gazers.
---
Columbia Access: Columbia Crossing River Trails Center, 41 Walnut Street, Columbia
Chickies Rock County Park Access: Northwest River Trail Parking Lot, 29 Furnace Road, Marietta
Marietta-Decatur Street Access: 40°03'12.0″N 76°34'05.7″W  |  40.053331, -76.568256
East Donegal Township Access: East Donegal Riverfront Park, 1632 Old River Rd, Marietta
Conoy Township Access: Koser Park, 107 Race Street, Bainbridge
Falmouth Boat Launch Access: 111 Collins Road, Bainbridge
The Northwest Lancaster County River Trail is a multi-purpose, public recreation trail approximately fourteen miles long, spanning five municipalities at the northwestern edge of Lancaster County and includes land owned by Lancaster County and the Lancaster County Solid Waste Management Authority. The trail follows the route of the historic Pennsylvania Mainline Canal and uses some of the original towpath that remains along the corridor. This provides ample opportunities to interpret the numerous industrial archaeological remains such as abandoned canal locks; the iron furnaces at Chickies Rock; and the old quarry operation at Billmeyer. The trail also connects the historic river towns and villages of Columbia, Marietta, Bainbridge, and Falmouth.