Delaware & Lehigh National Heritage Corridor
The Delaware & Lehigh National Heritage Corridor (D&L) is both a diverse, multi-faceted organization, and a multi-use trail spanning 165 miles from the mountains of northeast Pennsylvania through the Lehigh Valley and Bucks County.
The D&L is a true public-private partnership. Passionate residents and volunteers work alongside local, regional, and national entities to conserve cultural and natural resources in the five-county region of eastern Pennsylvania. This is a nationally significant historic transportation route that traverses railroads, canals, rivers and trails.
Since 1988, when Congress established the Delaware & Lehigh National Heritage Corridor, we have worked diligently to preserve and revitalize historic places and landmark towns, conserve green space for public use, document and interpret our heritage, celebrate our community and region, and create partnerships and programs for long-term sustainability.
The Delaware & Lehigh National Heritage Corridor (D&L) is America's first National Heritage Area to be accepted into the Smithsonian Affiliate network. This development allows the D&L to combine the nationally significant legacy of its historic transportation story with the breadth and scope of the Smithsonian at the National Canal Museum.
Explore this area's website for information, events, and more.
Follow on Facebook, Twitter, Instagram, and YouTube.
(Photo: Along the Canal – Cheryl Miller)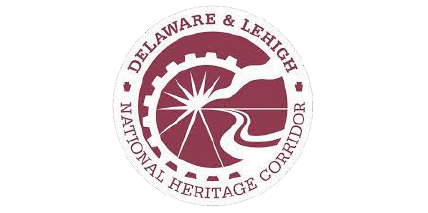 9 Dock Street, P.O. Box 287, Lansford, PA 18232
Ride by rail 1600' into the earth and tour the No. 9 Mine – the world's oldest continually operated anthracite coal mine (1855-1972).  Visitors will also find the Wash House (Shanty) just as it stood when it was built in 1923. In the Mine, visitors get to inspect a 900' deep mine shaft and see a coal miner's hospital cut right into the earth.  The Wash Shanty Museum houses the region's largest collection of mining memorabilia.  This museum is the Panther Valley's "family attic" filled with equipment and artifacts of the anthracite coal industry.  Members and staff of the Panther Creek Valley Foundation look forward to taking you on a stroll into centuries past.
---
3 Packer Hill, Road P.O. Box 108, Jim Thorpe, PA 18229
The Asa Packer Mansion, a National Historic Landmark, was the home of philanthropist, railroad magnate, and founder of Lehigh University, Asa Packer.  Built in 1861, the home was constructed over a span of two years and cost a total of $14,000 dollars.  Topped by a red-ribbed tin roof and a central cupola, the home was built over a cast iron frame and consists of 3 stories, 18 rooms and approximately 11,000 square feet of living space.  Mary Packer Cummings, Asa Packer's daughter, is the reason why The Mansion remains as part of local history today.  In In 1912, Mary Packer Cummings willed her family's home and all its contents to the Borough of Mauch Chunk where it would remain as a memorial to her father and his accomplishments. 
---
The Sigal Museum is Northampton County, Pennsylvania's leading institution of local history, and home to significant collections of pre-European settlement artifacts, decorative arts and textiles, farming implements and colonial furniture. The Museum opened in summer of 2010, offering its visitors interactive exhibits, self-guided and docent-led tours, special children's programs, and a lecture series on local and American history.
---
Nurture Nature Center, located in Easton, Pennsylvania, is a dynamic center for community learning about local environmental risks. NNC is housed in a beautifully renovated, historic, 30,000 square foot facility, where the staff uses a blend of science, art and dialogue programs to get the community talking and thinking critically about the local environment.
---
The National Museum of Industrial History in Bethlehem, Pa., is dedicated to preserving America's rich industrial heritage. It is located in a 100-year-old former Bethlehem Steel facility on the largest private brownfield in America. The Museum is home to exciting exhibits, engaging programs and amazing history.
---
ArtsQuest is a nonprofit organization providing access to art, culture and educational programs for the diverse residents of the Lehigh Valley and others who seek access to our community, located along the Hoover-Mason Trestle in Bethlehem, PA.
---
5 North Front Street, Allentown, PA 18102
Ameria on Wheels celebrates the history of over-the-road transportation and also highlights future means of moving people and product. The museum showcases the nation's transportation systems from its roots, including carriages, bicycles, motorcycles, automobiles and trucks, to the latest in transportation technologies. Planting a seed of knowledge and instilling an enthusiasm for our automotive heritage is a focal point in the on-going mission to educate the public about over-the-road transportation. It features a variety of exhibits, educational programming, and special events that highlight the national transportation story, as well as the Lehigh Valley's unique history of technological innovation.
---
Driving Tour from Jim Thorpe to White Haven, PA 18661
The Auto Tour highlights John James Audubon's 1829 visit to the Upper Lehigh River in Northeastern Pennsylvania, where he studied the variety of birds and other wildlife.  The Auto Tour retraces some of his footsteps through the "Great Pine Forest" and provides the "Explorer" the opportunity to experience the natural beauty of the region and its rich industrial and natural heritage.  During the 53-mile looped tour, you will have an opportunity to see the region as John James Audubon did, plus enjoy the historic towns and villages, beautiful countryside and scenic views, historical landmarks and unique geological features.   
---
74 West Broad Street, Suite 260, Bethlehem, PA 18018
Historic Bethlehem Museums & Sites was established in 1993 and is composed of four not-for-profit organizations: the Moravian Museum of Bethlehem, the Kemerer Museum of Decorative Arts, the Colonial Industrial Quarter, the 1810 Goundie House, and Burnside Plantation.  HBM&S preserves and presents the unique history and culture of the town, within the context of the growth and development of America. It has spearheaded preservation and restoration projects, developed educational resources and publications, increased access to historic buildings, and helped expand regional tourism.
---
Lehigh Avenue, P.O. Box 91, Jim Thorpe, PA 18229
For the 16-mile roundtrip, Lehigh Gorge Scenic Railway rides the former mainline of the Jersey Central Lines leaving historic downtown Jim Thorpe. The line swings over the old Nesquehoning Trestle onto the former Lehigh Valley main line before passing Glen Onoko. From here the Jersey Central track is long abandoned, but the Lehigh Gorge State Park trail has replaced it.  Glen Onoko is at the southern gateway to the LGSP.  The ride follows the winding Lehigh River for about 8 miles, rounding curve after curve until we reach Old Penn Haven Junction.
---
2750 Hugh Moore Park Road, Easton, PA 18042
The D&L Trail follows the 165-mile route that anthracite coal took from mine to market. It winds through northern mountains and along the banks of the Lehigh and Delaware Rivers through northeast Pennsylvania, the Lehigh Valley and through Bucks County. The D&L Trail passes through towns, industrial powerhouses and along remnants of the Lehigh and Delaware canals. This earthen path exposes walkers, hikers, bicyclists and others to some of Pennsylvania's finest wild lands, waterfalls, wildflowers and wildlife.  This is one trail that travels through three distinct regions and ties the 165-mile D&L Corridor together. It's an amazing journey for outdoor enthusiasts, families, history buffs and art lovers with sites and stories just waiting to be revealed.
---
138 South Pine Street, Doylestown, PA 18901
A center for culture and beauty, the Michener Art Museum in Doylestown is home to the largest public collection of Pennsylvania Impressionist paintings.
---
Lehigh Avenue, Jim Thorpe, PA 18229
Nestled in the breathtaking Lehigh Gorge, this Victorian town is teeming with history and loads of family fun.
Hugh Moore Park, Easton, PA 18042
The Delaware & Lehigh National Heritage Corridor interprets a fascinating period of American history in the City of Easton's Hugh Moore Park through tours of the National Canal Museum and rides on the 110-passenger Josiah White II canal boat, which from spring through fall. A series of special Saturday evening dinner cruises throughout the summer and early autumn expands the experience with themed programs that include catered dinners and live music.
---
11 Lodi Hill Road RR, Box 615A Upper Black, Eddy, PA 18972
The Delaware Canal is the only remaining continuously intact canal of the great towpath canal building era of the early and mid-19th century. Mule- drawn canal boat rides and the Lock Tender's House Visitor Center are at New Hope.  Paralleling the Delaware River between Easton and Bristol, this diverse park contains a historic canal and towpath, many miles of river shoreline and 11 river islands. From riverside to farm fields to historic towns, visitors to Delaware Canal State Park will enjoy the ever-changing scenery along its corridor.
---
8844 Paint Mill Road, P.O. Box 198, Slatington, PA 18080
The Lehigh Gap Nature Center is a non-profit conservation organization located in Lehigh Gap, Pennsylvania, at the foot of the Kittatinny Ridge. Our mission is to preserve wildlife and habitat through conservation, education, and research for the benefit of the earth and all its inhabitants. Our conservation programs include the Lehigh Gap Wildlife Refuge. The Bake Oven Knob Hawk Watch is one of our many research programs. We also conduct many local educational programs, such as the Kittatiny Raptor Corridor Project.
---
1 West Mechanic Street, New Hope, PA 18938
Nestled along the banks of the Delaware River, the village of New Hope and its surrounding area offers visitors scenic countryside, romantic hideaways and family fun. Located in Bucks County PA, this sophisticated yet country-casual town provides a much-needed break from today′s hectic lifestyle and offers something for everyone.  Today, New Hope continues to bring the world a positive "new hope" by preserving its own unique tradition of offering its visitors an experience you cannot find anywhere else… a fantasy, an escape into the arts, a page turned back in history. Relax and enjoy New Hope, PA.
---
30 Centre Square, Easton, PA 18042
Want to roam through a crayon and marker factory, explore the magic of light and color, and experiment with cool art techniques? It's all under one roof at our family discovery center in Easton, Pennsylvania. Hands-on activities for all ages. Come see the colorful world of Crayola and find out how Crayola products are made. Reservation information, hours of operation, prices and tour details can all be found on the Crayola Web site.
---
2 Eckley Main Street, Weatherly, PA 18255
Eckley Miners' Village is an example of a planned 19th century industrial coal mining town. Companies often designed and constructed rural communities to house their employees in close proximity to the collieries or factories at which they worked, which allowed the company to maintain a greater control over their employees. Eckley Miners' Village represents the lives of immigrant anthracite coal miners and their families as they lived through the industrial revolution.
---
Market & River Streets, Wilkes-Barre, PA 18701
River Common is a "world-class facility" located along the eastern bank of the Susquehanna River in Wilkes-Barre, PA. Situated to either side of the Market Street Bridge, the park is host to a 750 person amphitheater, paved walk-ways, gardens, ornamental trees, a grand common and seating area, a fishing pier, and two grand gateways connecting the city to the River.   The new park adds to the Downtown Riverfront Park system which is composed of 91 acres of open space in Wilkes-Barre, Kingston, and Edwardsville. River Common will once again join the ranks of the Nesbitt and Kirby Parks, to bring the beauty of the region's natural resources to light. The River Common and the 12-mile Wyoming Valley Levee system is one of the largest flood control projects east of the Mississippi River and will help citizens reconnect with the River and educate them on the ways in which they can help to reduce the area's carbon footprint.
---
71 Public Square, Wilkes-Barre, PA 18701
Since opening its doors more than 20 years ago as the F. M. Kirby Center, the cumulative audience has been more than 2.5 million people. These audiences have witnessed a broad spectrum of attractions, ranging from grand opera and Broadway musicals to 18th Century dramas, from musicians to comedians, from ballet to acrobats, and from magicians to ice skaters. Beyond entertainment, the Kirby Center has hosts countless meetings, major political figures, religious ceremonies, graduations and numerous parties and weddings. This Art-Deco jewel from 1938 now offers newly refurbished interiors as it enters its third decade with a restatement of its heritage.  It is through the committed support of the community that this magnificent building still exists and is able to continue its legacy as the F.M. Kirby Center for the Performing Arts to present the best of the performing arts and entertainment in northeast Pennsylvania.
---
RR 1, Box 81, White Haven, PA 18661
Located in Carbon County in the western foothills of the Pocono Mountains, Hickory Run has many amenities and activities available.  They include trails, picnicking, swimming, fishing, hunting, disc golf, wildlife watching, cross country skiing, snowmobiling, ice skating and camping.  Don't miss Boulder Field, a true relic of the past. This area is a National Natural Landmark and State Park Natural Area. It has remained relatively unchanged for more than 12,000 years. Some of the boulders measure 26-feet in length.
---
RR 1, Box 81, White Haven, PA 18661
A deep gorge with steep walls, thick vegetation, rock outcroppings and several waterfalls characterize Lehigh Gorge State Park.  The 4,548-acre park follows the Lehigh River from the U.S. Army Corps of Engineers' Francis E. Walter Dam to the north, to Jim Thorpe at the southern end. The towering 800-foot Gorge was carved into the plateau by the Lehigh River.  It is a designated state scenic river and the lure for many outdoor lovers. Paddlers travel here for the whitewater, and the bucking-bronco sensation that comes when barreling over Class II and III rapids and navigating down a swift-moving river. Bicyclists come for the uninterrupted 26-mile trail that travels downhill from White Haven to Jim Thorpe along the Lehigh.
---
84 South Pine Street, Doylestown, PA 18901
The collections of the Mercer Museum were conceived as an encyclopedic assemblage of pre-industrial American material culture with the potential to teach history "from a new point of view". Established in 1897, the collection is now recognized as one of the most extensive collections of artifacts associated with everyday life and work in early America. Among its more than 50,000 objects, the museum is renowned for its collections of tools and artifacts associated with pre-industrial trades, crafts, agriculture and domestic work. Walk into the Central Court and see a Conestoga wagon, whaling boat, carriages and an antique fire engine suspended overhead. The collections are considered by museum professionals, technology scholars, and tool collectors to be the most complete collection of its kind in America.