Lincoln Highway Heritage Corridor
In 1913, when the Lincoln Highway stretched from New York City to San Francisco, it did more than create a new way to travel the country. It sparked the public's imagination and fostered the rapid growth of automobile tourism. The Lincoln Highway Heritage Corridor covers a 200-mile stretch of that road in PA, offering up everything from forts and scenic vistas to quaint mom and pop gas stations. The Lincoln Highway Heritage Corridor reminds travelers that getting there is half the fun.
Explore this area's website for information, events, and more.
Follow on Facebook.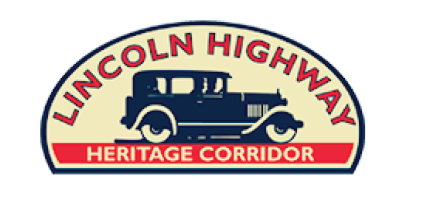 3435 State Route 30 East, Latrobe, PA 15650
One road changed America forever…Begin your journey at the Lincoln Highway Experience museum by viewing the national award-winning 13-minute film that highlights communities along our 200-mile Corridor; riding a mountain bike along the Lincoln; writing out a Lincoln Highway postcard (the museum even provides the postage); discovering kitschy supersized roadside giants; getting up close and personal with a 1937 Packard and a restored 1938 diner; and enjoying a piece of pie and cup of coffee!  Lots of neon and an awesome Gift Shop round out the experience.  For hours and admission information, visit www.LHHC.org or call 724-879-4241.
---
9061 Route 30 West, North Huntingdon, PA 15642
Tastiest Museum celebrating The Big Mac.
---
221 N. Main Street, Greensburg, PA 15601
---
Pittsburgh Steelers Training Camp
Saint Vincent College, Route 30, Latrobe, PA 15650
The Pittsburgh Steelers have held their Summer Training Camp at this location for 50+ years. Beginning in late July, the Camp (which is open to the public at no charge) lasts for approximately 3 weeks.
---
Route 30 East, Ligonier, PA 15658
Voted best kids park in the world.
---
Fort Ligonier
Intersection of Routes 30 and 711, Ligonier, PA
This re-constructed Fort tells the story of the French and Indian War and is located in the charming town of Ligonier. Contact 724-238-9701 for more information.
---
1 Boucher Lane & Route 711 South, Ligonier, PA 15658
The Ligonier Valley facility is modeled on an authentic log cabin design that reflects the historic community and is surrounded by gardens maintained by a volunteer auxiliary. The Walter Carlyle Shaw Paperweight Collection is on permanent display in a custom installation that frames the exhibition gallery.
---
Route 30 to Rt. 381 South, Rector, PA 15677
This 612-acre park offers cabins, hiking and picnic areas.
---
1382 Rte. 30 East, Laughlintown, PA 15655
An authentically restored 1799 stagecoach stop complex includes Inn, working cookhouse, blacksmith shop, carpenter's shop and barn.
---
Laurel Mountain State Park
1454 Laurel Hill Road, Somerset, PA 15501
In addition to a 4,072-acre park, the gorgeous 63-acre lake is a great welcome to campers and day trippers
7712 Somerset Pike, Boswell, PA 15531
PA's oldest professional resident summer theatre.
---
6424 Lincoln Highway, Stoystown, PA 15563
Open sunrise to dusk; free.
---
132 Shawnee Park Road, Schellsburg, PA 15559
The 451-acre lake is the focal point for this 3,983 acre park that also offers camping.
---
Route 30, Schellsburg, PA 15559
This Church is the oldest standing church in Bedford County.
---
Fort Bedford Museum
110 Fort Bedford Drive, Bedford, PA 15522
This reconstructed Fort is near the original site overlooking the Raystown Branch of the Juniata River in downtown Bedford.
---
322 S. Juliana Street, Bedford, PA 15522
Rotating exhibits and classes. Gift shop.
---
220 Sawblade Road, from Rt. 220, Bedford, PA 15522
35 reconstructed buildings in a colonial village setting
---
6235 Aughwick Road, Fort Loudon, PA 17224
The sandy beach and 42-acre lake welcome campers who tent or lodge in the park's rustic cabins.
---
Old Jail and Museum
175 E. King Street, Chambersburg, PA 17201
Chambersburg's 1818 "Old Jail" is one of the few structures to have survived the burning of Chambersburg by Confederate Forces in 1864.
---
100 Lincoln Way East, Chambersburg, PA 17201
Begin your tour of Franklin county here.
---
101 Pine Grove Road, Fayetteville, PA 17222
This 1,125-acre park has it all-great hiking, fishing, camping with inground pool and 18 hole public golf course.
---
1195 Baltimore Pike, Gettysburg, PA 17325
22,000 sq. ft. of exhibits of the Civil War