PA Route 6 Heritage Corridor
In 1807, Pennsylvania State officials mandated a road be cut through the Moosic Mountains to enable easier travel to the western part of the state. Just like that, Route 6 was born. By spanning the entire state, the road ties together a unique collection of special places and communities, capturing the spirit of the state's diversity: rural, farmland, dramatic landscapes, rolling mountains, and quaint towns.
As you drive Route 6, you witness firsthand what has fueled, and continues to fuel, America. It is a look inside the country's engine, allowing the visitor a deeper understanding of our American culture. The Highway's strong heritage of transporting people, products, and natural resources like lumber, oil, coal, and natural gas tells the story of America's love to travel and is considered one of the best touring routes by Harley-Davidson, and "One of America's Most Scenic Drives" by National Geographic Traveler.
Explore this area's website for information, events, and more.
Follow on Facebook and Twitter.
(Photo: Grey Towers National Historic Site, Milford, PA)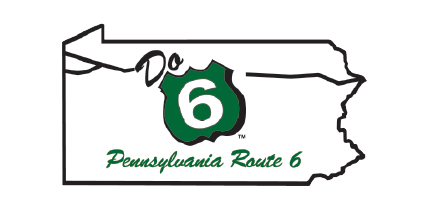 Smethport Mansion District, Smethport, PA 16749
Tucked away in the Pennsylvania Wilds, where the Nunundah Valley and Marvin Creek Valley converge, Smethport offers a glimpse of its opulent past to visitors with the release of a self-guided walking tour brochure of its Mansion District.
---
810 Main Street, Honesdale, PA 18431
Home of the Stourbridge Lion Replica, the First Steam Locomotive to run in America. The building was the original home of the Delaware and Hudson Canal Company Office. Designated a Department of Interior National Historic Landmark. Contact 570-253-3240 for more information.
---
60 East Tioga Street, Tunkhannock, PA 18657
The Dietrich Theater was built in 1936 by George Dietrich and continued to show movies for nearly fifty years. In the late 1980's, bowing to the whims of the times, the local theater could no longer compete with the mall movies, and the screen became dark. Today, The Dietrich shows countless blockbuster, foreign, independent and classic films. The theater has also presented over 100 cultural events, including semiannual film festivals, live theater, concerts and workshops. The semiannual film festivals bring in patrons from all over northeastern Pennsylvania. Wonderful works of art are exhibited in our William Norris Earnshaw Gallery, and art classes are offered in the Dorothy G. Sheldon Art Studio for both youth and adults. Contact 570-836-1022 for more information.
---
Lackawanna Trail, Nicholson, PA 18446
The Tunkhannock Creek Viaduct, also known as the Nicholson Bridge or sometimes as the Tunkhannock Viaduct, was built by the Delaware, Lackawanna & Western Railroad (DL&W) in 1912 and was completed, dedicated and ready for use on November 6, 1915. This remarkable construction and engineering feat of its time was listed on the National Register of Historic Places on April 11, 1977, due to its national architectural, engineering and transportation significance.
---
1 North Main Street, Carbondale, PA 18407
In the mid-1820s, the Wurts Brothers launched the Delaware and Hudson Canal Company in Carbondale. Carbondale was located not only close to the rich anthracite coal reserves in Lackawanna County but also in proximity to New York City. With the D&H Canal close by and the gravity railroad, Carbondale played a pivotal role in the movement of coal from Pennsylvania to markets far and wide.
---
454 Lyman Run Road, Galeton, PA 16922
Due to its exceptionally dark skies, Cherry Springs State Park is one of the best places on the eastern seaboard for stargazing and the science of astronomy. Cherry Springs State Park is nearly as remote and wild today as it was two centuries ago. Its dark skies make it a haven for astronomers. Named for the large stands of black cherry trees in the park, the 82-acre state park is surrounded by the 262,000-acre Susquehannock State Forest with access to nearly 85 miles of trails nearby. Contact 814-435-5010 for more information.
---
1721 Lindholm Road, Mount Jewett, PA 16740
The 329-acre Kinzua Bridge State Park offers visitors a chance to walk the Tracks Across the Sky. Located in McKean County, this park is the home of the newly reinvented Kinzua Viaduct. The Viaduct, once known as the longest and tallest railroad structure at 2,054 feet long and 301 feet high, was partially destroyed by a tornado in 2003. In 2011, the engineering masterpiece was reinvented as a new pedestrian walkway where visitors can stroll 600 feet out on the remaining support towers, peer miles out into the Kinzua Gorge as well as peer down into the partial glass platform at the end of the walkway. Picnicking and trail opportunities are available. The Kinzua Bridge Scenic Byway is a designated shared use hike/bike corridor. Contact 814-965-2646 for more information.
---
80 East Corydon Street, ANF Visitors Bureau, Bradford PA 16701
The Allegheny National Forest offers more than 513,000 acres of outdoor fun. Nearby Kinzua Bridge State Park in Pennsylvania and the Allegany State Park in New York provide additional trail and recreation opportunities. There is an endless variety of trails leading to just the adventure you need: ATV, Biking, Hiking, Horse, Heritage, Shopping, Water and Snowmobile Trails
---
4797 Route 660, Wellsboro, PA 16901
Views of the Pine Creek Gorge from 2 state parks. Hiking, biking, birdwatching, horseback riding. Access to Pine Creek Rail Trail. Contact 570-724-3061 for more information.
---
302 West Third Avenue, Warren, PA 16365
Among the twenty oldest theatrical venues in the nation, the Historic Struthers Library Theatre has been a performing arts center since 1883 and reflects millions spent to enhance the facility. It seats 1,000 in elegant, air-conditioned comfort. The Playhouse company includes actors, dancers, orchestral players and stage designers recruited from across the country. See stunning sets and winning performances of beloved American musicals. Contact 800-720-0450 for more information.
---
2660 Williamsfield Road, Jamestown, PA 16134
Almost everything about Pymatuning State Park is huge. At 21,122 acres, it is one of the largest state parks in the Commonwealth. The 17,088-acre Pymatuning Reservoir is the largest lake in the Commonwealth. In its three campgrounds, Pymatuning has the most campsites in the Pennsylvania state park system. More people visit Pymatuning than almost any other state park in Pennsylvania. But the biggest thing about Pymatuning is the fun you can have boating, fishing, swimming, camping and enjoying other recreational opportunities. In addition to the state park facilities, the Pennsylvania Fish and Boat Commission operate a fish hatchery and visitor center, and the Pennsylvania Game Commission has wildlife viewing areas and a learning center.
Route 6, Hawley, PA 18428
Lake Wallenpaupack is a man-made lake built in 1927 for hydroelectric power. The lake has huge dimensions – 5,700 acres, 13 miles long with 52 miles of shoreline. The lake has six recreation areas featuring hundreds of acres of forest lands, wildlife, walking trails, campsites and boat slips.
---
20 Main Street, Wyalusing, PA 18853
Self-guided tour of buildings adorned with beautifully hand painted classic quilt blocks. Five separate quilt paths that feature barns, businesses, homes, and historical sites. Also experience the stories through the audio portion of the trail. Learn the legends and history of the Wyalusing area. Contact 570-746-4922 for more information.
---
9 Muck Road, Wellsboro, PA 16901
See Canyon Country in comfort and style! Train leaves Wellsboro Junction Saturdays and Sundays at 11:00 a.m., 1:00 p.m., and 3:00 p.m. Reservations are not required. The dinner train runs Saturdays at 5:30 p.m. and does require reservations. Contact 570-724-0990 for more information.
---
12382 Center Street, Conneaut Lake, PA 16316
One of the oldest amusement parks in America. Fishing and boating on Conneaut Lake.
---
150 East Front Street, Erie, PA 16507
Reconstructed flagship of Pennsylvania. Commodore Oliver H. Perry captained 2-masted, square-rigged vessel in Battle of Lake Erie, War of 1812. He said: "We have met the enemy and they are ours." Professional and volunteer crew. Contact 814-452-2744 for more information.
---
150 South Washington Avenue, Scranton, PA 18503
Steamtown celebrates the strength and glory of locomotion. Take a ride on a fully operational steam engine through the beautiful mountains of Northeastern Pennsylvania. Or experience the heritage of the railroad through the History and Technology Museums. Visit the only national park solely dedicated to railroad history, created to interpret the story of mainline railroading between 1850 and 1950. The park occupies more than 40 acres of former rail yard and includes historic railroad buildings. The Steamtown National Historic Site also operates three steam locomotives. Bring the whole family for a hands-on learning experience as you tour roundhouses and ride the rails. Open year-round, seven days a week.
---
5660 US Route 6 West, Galeton, PA 16922
The rough and rugged life of the lumber industry, once Pennsylvania's largest, is portrayed in a recreated lumber camp. More than 3,000 artifacts and objects, from everyday tools to a logging locomotive, are displayed. Visitors walk through the weathered wooden buildings of the logging camp and sawmill. The PA Lumber Museum preserves the heritage of the State's Prosperous Lumber era. Shay locomotive, Barnhart Log Loader, Brookville switch engine, Logging Camp, Sawmill, CCC cabin, Exhibits and trails. Contact 814-435-2652 for more information.
---
13 West Main Street, Galeton, PA 16922
On Route 6, you will find a string of small communities, once compared to a string of pearls. Each town has a wealth of unique shops and galleries waiting for you to explore. Many talented people live and create along the PA Route 6 Heritage Corridor. Here they find natural beauty and materials for the inspiration of their work. Some are creating fine art in studios overlooking mountains and valleys; some are practicing the art forms and traditions of years gone by; but they all call the Northern Tier of Pennsylvania their home.
---
R.R. 2, P.O. Box 266, Towanda, PA 18848
Between 1793 and 1803, French refugees founded a refugee camp at what is now known as the French Azilum Historic Site. This peaceful valley offered the refugees a place to escape oppression in their native France. None of the settlements' original buildings still stand. However, it is easy to see, while visiting the home built for Marie Antoinette. Contact 570-265-3376 for more information.
---
55 Suydam Drive, Honesdale, PA 18431
The Dorflinger Glass Museum tells the story of the magnificent glass works produced during the late 19th century by artisan Christian Dorflinger. Dorflinger glassworks produced world-renowned pieces, some of which graced the tables of presidents Lincoln and Wilson. The isolated grounds of the Wildlife Sanctuary are among the most beautiful in the state. Contact 570-253-1185 for more information.
---
135 Lackawaxen Scenic Drive, Lackawaxen, PA 18435
Once the home of this prolific writer, the Zane Grey Museum is a favorite among history and literature buffs. 20-minute-long guided tours through the museum are offered. Exhibits include photographs, memorabilia, personal items, manuscripts, and first editions of all of Grey's books.
---
301 Peninsula Drive, Route 832, Erie, PA 16505
Motorized and non-motorized trails, camping, scenic views, fall foliage.
---
151 Grey Towers Drive, Milford, PA 18337
Ancestral Home of first chief of the US Forest Service and Pennsylvania Governor for two terms, Gifford Pinchot.   Now, the US Forest Service works with numerous partners to carry on the Pinchot legacy by delivering public programs, interpretive tours and conservation education programs. Today, conferences and seminars at the estate bring together a diversity of leading conservation and environmental thinkers to help guide the future of natural resources. The grounds are open to the public with guided tours of the home as scheduled.